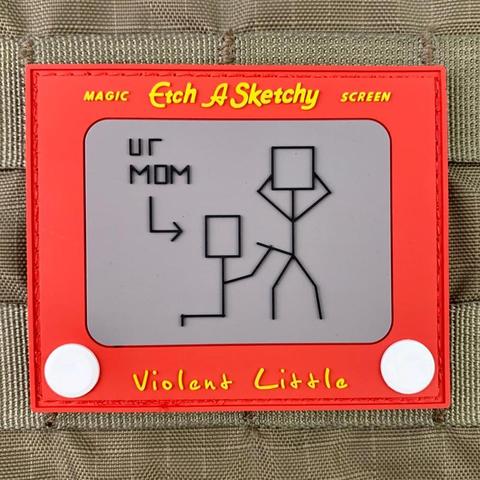 Violent Little "Etchy Sketchy" PVC Morale Patch
Back in the day, we didn't have none of this Brazzers shit.  To survive back in 19-diggity-2, we had to master delayed gratification. For example, if I needed to jerk my gherkin, and Sunday's newspaper with the coveted lingerie junk mail was still a few days away, I had to plan it out. 
Sometimes, when I didn't feel like spending two hours whittlin' a birch twig into the shape of Farah Fawcett's left thigh... I'd break out the old Etcha Sketch to make my visions more tangible... and it was worth it! 
However, I never created none of that 'step-brother/sister' shit you youngin's seem to be into these days... What in the blue hell is wrong with your generation?

3" Wide, with 3D PVC features (buttons feel kinda realistic)
Backed with Hook backing
Shake it up at the end for a realistic money shot
---
We Also Recommend