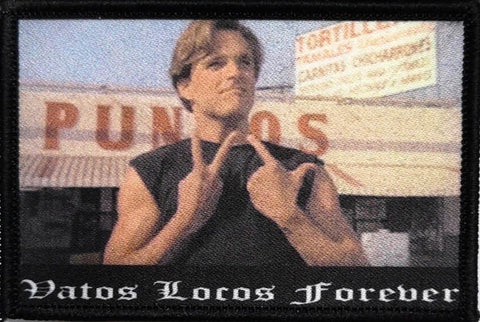 VATOS LOCOS FOREVER MORALE PATCH
Meeklo was one crazy vato, but he knew how to stay true to his roots, well one side of them anyways.
Our new favorite patch!
3"x2" Hook and Loop backed
Sangre por snagre
Every time I look at this patch it makes me smile. Looks and fit in great on my flannel and it got here super fast and was loaded with extras such as a hand written thank you, a sticker and an additional glow in the dark patch with the company logo! Awesome purchase! Awesome Patch! Awesome compnay!
Vato Locos Forever!
Higher quality than I anticipated. 10/10 product for a fraction of the cost.
Vatos Locos Forever
Patch looks even better than the picture on the website!!
VATOS LOCOS FOREVER MORALE PATCH
Vato Locos forever!
It's awesome, great work on a cult classic film, I get non stop compliments on it! However, spelling is questionable (Naked fo the eye)
---
We Also Recommend