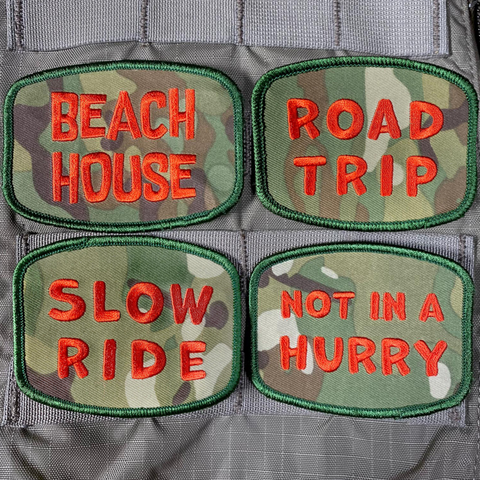 VACATION TIME MORALE PATCHES
New from Big D Speedshop! Let people know you're in 'vacation mode' even at work.
Beach House - Why have a cutesy name for it like "Barefoot Bungalow" when you can just call it what it is...a Beach House. (this one is slightly larger at 3.5" wide)
Road Trip - Peace bitches. Or should I say.... Peace beaches. .....Yeah. That was bad.....
Slow Ride - If your next words aren't "Take it Easy", we can't be friends.
Not in a Hurry - My favorite of the bunch and my life motto. 
3.25" x 2.5" embroidered lettering and border, Hook  backing
ONE OF A KIND: camo pattern varies from patch-to-patch

If you're lucky, maybe one of your camo blotches will look like a peen. 
---
We Also Recommend