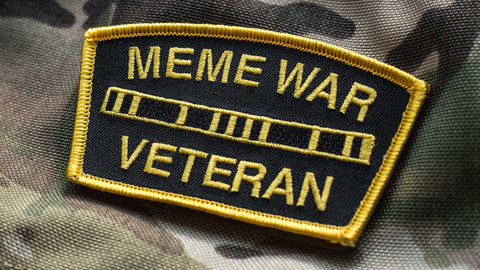 MEME WAR VETERAN MEDAL RACK MORALE PATCH
BritKitUSA is proud to stock these awesome patches from our mates at Every Day No Days Off Apparel!
DESCRIPTION:
Whether it's publicly online, privately in the DMs or through sms messages; wars are being fought every day.  Wars where the weaponry are photographs with witty, relatable, or self esteem crushing captions. The ribbon on the patch reads PEPE in binary, as a tribute to one of the greats. I hope it goes without saying, but the patch is to celebrate memes and the meme wars, not disrespect veterans or their service in any way.
DETAILS:
Size: 2x4"
hook fastener sewn on the back
Embroidered construction.
Perfect size for a plate carrier! Great for hats, backpacks, bags, or just to add to your patch wall etc...
---
We Also Recommend