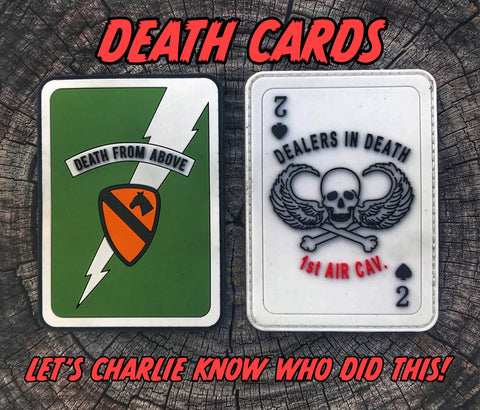 KILGORE 1st AIR CAV DEATH FROM ABOVE "DEATH CARDS" MORALE PATCH SET
THIS IS THE ALL NEW KILGORE DEATH CARD 2 PATCH SET. 
EACH SET INCLUDES 1 DEATH CARD FRONT ART PATCH & 1 DEATH CARD BACK ART PATCH.
" HEY CAPTAIN, WHATS THAT?"
"DEATH CARDS...LETS CHARLIE KNOW WHO DID THIS"!
FOR THE APOCAYLPSE NOW FAN THAT WANTS TO PLAY A GAME OF POKER WITH THE MOST BAD ASS POKER CARD KNOWN TO MAN, CHECK OUT OUR "DEATH CARD" POKER CARD SET.
NOW, IF YOU WANT TO WEAR THAT DEATH CARD ON YOUR HOOK & LOOP EQUIPPED GEAR, THEN THIS IS THE MORALE PATCH FOR YOU.
KILGORE 1st AIR CAV DEATH FROM ABOVE "DEATH CARDS" MORALE PATCH SET
---
We Also Recommend