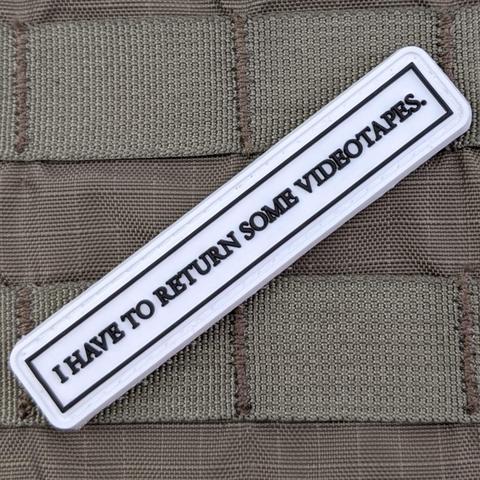 I HAVE TO RETURN SOME VIDEO TAPES PVC MORALE PATCH
What's your go-to excuse to get out of social situations? Is it as awkward as Patrick Bateman's "I have to return some video tapes"? I guess his awkwardness really comes from the delivery rather than the actual message.

I think Bateman could've used his other line of "I think my mask of sanity is about to slip". No one would try to get you to stick around after that one.

.65" x 3.4" 3D Text PVC
Hook Same-Color Backed
"I've assessed the situation, and I'm going."
I have indeed returned the tapes!
The patches came in on time with everything that was ordered. Very appreciative of the additional gifts and consideration that was thrown into the package. Will 100% be buying for TO in the future, thank you!!
"I HAVE TO RETURN SOME VIDEO TAPES" PVC MORALE PATCH
---
We Also Recommend