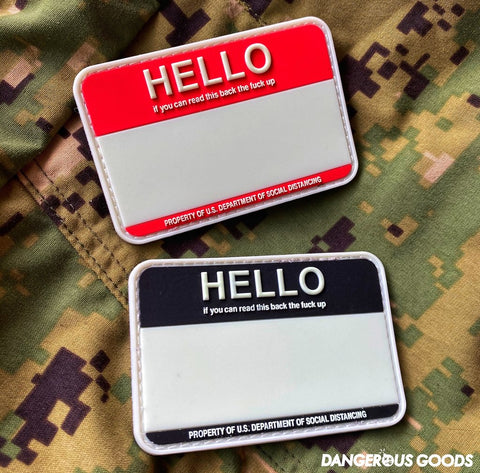 Dangerous Goods™️ HELLO Back The Fuck Up Social Distancing Name Tag PVC Morale Patch
Now You Can Let Everyone Around You Know When They Are Standing Too Close, Without Having to Actually Say Anything...And even in the Dark Too!
From the U.S. Department of Social Distancing comes the HELLO IF YOU CAN READ THIS, BACK THE FUCK UP PVC Patch Name Tag Morale Patches! Both come with Super-Fuckin-Duper Bright Glow-In-The-Dark Technology
Available in Two Color Options:
• RESPECT MY SPACE RED
• BACK THE FUCK UP BLACK
YOU CAN EVEN WRITE YOUR NAME, or ANY NAME WITH SHARPIE MARKER, TO CUSTOMIZE YOUR SOCIAL DISTANCING EXPERIENCE!
Each Patch is 3D PVC and Hook & Loop Backed 
---
We Also Recommend